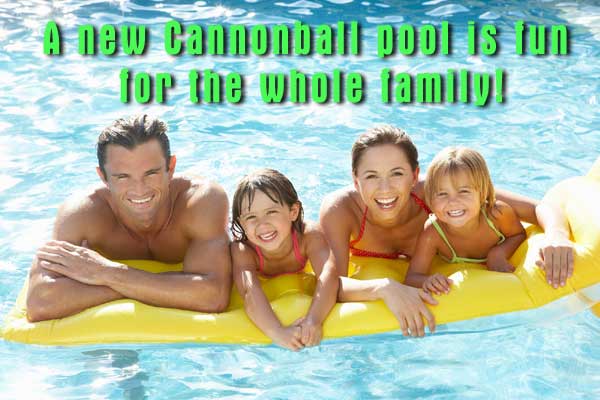 Above Ground & Inground Pools
At Cannonball pools we install Above ground and Inground pools. We do everything we can to make your backyard dreams come true. We have the expertise to build any style pool and would be happy to work with you to decide exactly what you are looking for in your back yard. Call today to find out more information about what we can do for you.
Above Ground Pool Styles
We offer many different styles anywhere from 15' to 33' round, different size ovals, even a salt certified above ground pool. Our most popular pool is the Mission style pool from Celebration Above ground pools.
| | | | |
| --- | --- | --- | --- |
| Round Pool | Gallons | Oval | Gallons |
| 12-foot | 3,568 | 12-foot by 23-foot | 7,298 |
| 15-foot | 5,310 | 15-foot by 26-foot | 10,313 |
| 18-foot | 7,646 | 15-foot by 30-foot | 12,060 |
| 21-foot | 10,407 | 18-foot by 33-foot | 15,919 |
| 24-foot | 13,593 | *We do not install Ovals* | |
| 27-foot | 17,204 | *We do sell Ovals* | |
| 30-foot | 22,302 | | |
8-inch injected resin top ledge
6-inch fully supportive steel uprights
Bottom wall channel made of resin
Computer-designed wall joint ensures better resistance to water pressure
Oversized bolts augment stability
Zincguard™ 275 hot-dipped galvanized
Polyenamel™ Kote
Resin-Shield™
Synpro™
Duoguard™
Pre-finished pool components
Protective Finishes
Inground
At cannonball pools we work closely with our customers to ensure that we are making their backyard dreams come true. When deciding to invest in an inground pool you begin to work closely with our experts to design something that you will be able to enjoy forever. Call today to meet with one of our highly experienced team members and begin converting your backyard dreams into a reality.
556 North Main St.
Stewartsville, NJ 08886
367 Pittstown Rd.
Pittstown, NJ 08867
Thank you for making our 20th season a blast! We were so happy to get everyone swimming this year.

We are now closed for the season. Store hours are available by appointment only. Please email us at INFO@CANNONBALLPOOLSNJ.COM or Call us at (908) 454-2559 and we will return your message as soon as possible. Thank you

Look out for our opening Scheduling email in early Spring!